Technological leaps and the active development of science have led to a rapid change in demand for products. Markets are overflowing with similar products. Entering these markets can only be done through effective and proven methods. People are increasingly in need of new products that are ahead of the present.
Nowadays, it is not enough to create something new. Competitors will quickly pick up your idea. It is better to make your new product the best offer on the market now and in the long term. For this, you should always keep an eye on internal factors, but also don't forget about external factors, such as economic and geopolitical problems, etc. You should know how to enter a new market even during a crisis.
Our team has prepared an effective new product development strategy for you, including all steps to launch a new product.
Forewarned is forearmed!
How to successfully enter a new market with a new product?
Our experts have prepared for you step-by-step instructions on how to launch the new product. Each point of this article needs to be carefully studied.
In this article you will learn about :
– New product development
– Steps to launch a new product
New product development strategy
In the age of digital, our tastes and needs change rapidly. It also happens with the level of competition. Betting on one product and one market is rather risky. The consumer wants and waits for new and improved products. Сompetitors will do their best to provide them with novelties. Consequently, every company should have its own program for developing new products.
The ideal scheme of the steps to launch a new product looks like this: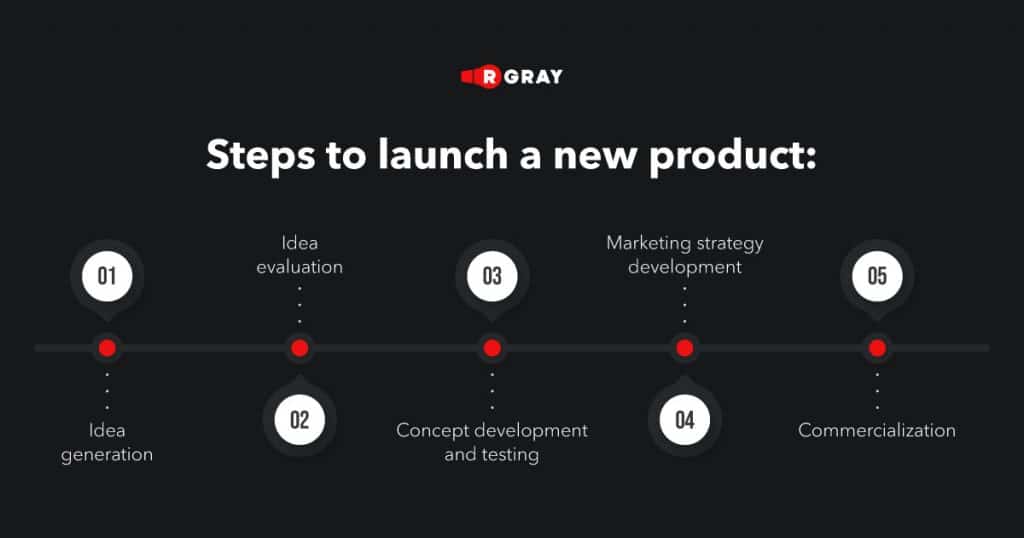 1. Idea generation
As we say around here – "Everything begins with an idea". The development of a new product begins with brainstorming business ideas.
There are many sources of ideas to create novelties. We highlight three main source-personalities that are worth attending to idea generation. They are users, scientists, and competitors. The interests of users you can find with client surveys, group discussions, incoming letters, and complaints. It allows you to understand what is in high demand in the markets. Another source of ideas is scientists because they can invent or find new materials or properties that will lead to the creation of original or improved versions of existing products. As for the competitors, the firm needs to keep an eye on the competitors' goods, identifying among them the most attractive to the buyers.
2. Idea evaluation
The next stage is the idea evaluation. Idea screening helps to filter out all unnecessary and inefficient ideas.
The idea should be disclosed and include a description of the goods, target market and competitors, estimates of the size of the market, the price of goods, the duration and cost of work on the creation of a novelty, the cost of its production and profit margins. After that, you need to show your results to the boss. Sometimes ideas can't suit a company's needs and wishes.
3. Concept development and testing
The next stage is product concept development. It is similar to the plan that you presented to your boss, but already approved and finalized.
The development of a new product concept includes:
description of the concept
list of product features and benefits that are of interest to the customer
target audience analysis
focus groups and thorough market research
calculation of product costs and possible profit
Concept testing is a process that helps to assess the customer's response to the offered product or service before it is released to the market.
It includes a survey where you can ask your customers:
Are they interested in the product?
How much do they like the product?
What they like more/less in our product than in our competitors?
How much money can they pay for it?
What would they like to change in the product?
What do they think can be improved?
4. Marketing strategy development and testing
A well thought out marketing strategy formulation will help you achieve your business goals and create a strong reputation for your products. It will help you target the people who are likely to buy your products.
To make the most of your marketing investment, the development of your strategy should include:
business goals
marketing goals
market research
desires of potential customers
strengths and weaknesses of competitors
distribution channel
the marketing mix (product, price, place, and promotion)
review and revise
The main task in this step is always to test, analyze, and customize their programs to achieve optimal transformations.
There are many methods to test various elements of your marketing campaigns and find the best options, but here are the most used and most valuable for digital marketing:
A/B Testing
Content Testing
Multivariate Testing
Geo-Target Testing
Usability Testing
Eye Tracking Testing
The main reason for testing is that you will understand how your target market will react to headlines or ads. To do this, you must test your campaign. Testing will show you how effectively you invest your money. Small scale testing allows you to predict what level of response you will receive from the campaign.
Testing allows you to save money.
5. Commercialization
Market penetration provides management with sufficient information to make a final decision on the intended use of a new product. If a firm starts to deploy commercial production, it will incur high costs.
When a firm enters the market with a new product, it must decide when, where, to whom and how to offer it.
When. For starters, you need to decide on the timely launch of the novelty on the market. The firm will probably want to wait with it when the economy is stagnating
Where. The company must decide whether to market in a single location or in several regions, at a national or global scale
To whom. In the group of consistently developed markets, the company must choose the most profitable to style sales to focus on them.
How. The firm should develop an action plan to bring new products to markets.
Commercialization of research provides new products and services that can be used to solve some of the most pressing problems of life, as well as to gradually improve consumer quality of life and business efficiency in a variety of areas.
What is the point to start entering a new market and launch a new product right now?
Organizations and enterprises are increasingly aware of the need for the development of new products, services, and complimentary offers. Terms lives of existing goods- are shrinking, and they have to be replaced with novelties. However, the substitute isn't guaranteed to succeed. The risk associated with innovation is great, but the reward is even greater. The key to successful innovations is creating a good new product development strategy for working with ideas, a market entry strategy for working with new products, serious research, and informed decision making at each stage of novelty creation.
Our specialists have many tips to help you quickly adapt and grow in a new market. We know how to make your product in high demand.
Sign up for a free consultation now!